Virtual Billson Park Albury played host to another brilliant game of dice cricket with the hosts coming away with a 4 wicket win with just 3 balls to spare thanks to a match winning partnership between Dom Stockdale and Todd Henderson who survived a hat trick ball to go on and make 57 not out whilst Stockdale brought up the winning runs in emphatic fashion to finish 64 not out to the rapturous applause from the large virtual crowd in attendance.
After lengthy discussions with coach Jerim Hayes prior to the fixture Ross Dixon decided to bowl first having won the toss. We are led to believe that this was based on Riding Mill's struggle to post a winning score batting first in their previous three fixtures.
The surface looked perfect for dice cricket and there was an air of excitement from the Albury faithful who were keen to see how their side would perform in their dice cricket debut.
Things could not have started more perfectly for the hosts on the first roll of the game when Bhaiya picked up the big wicket of the dangerous Dickson who was coming off 83 last start. Nat Sariman was keeping up at the stumps with Dickson playing and missing with his back foot dragging ever so slightly out of the crease only for Sariman to have the bails off before you could blink. A boundary the next ball from Collins restored order for Riding Mill momentarily before Sariman again had the bails off in a flash to see him on his way for 4.
Bennett was joined by Ali Raza at the crease with Raza looking in good touch, depositing Singh into the virtual playground before Sariman was again in the game taking a smart catch down the leg side to send Raza on his way for 13 from 5.
A nice little partnership developed between Bennett and Longstaff before Bennett fell to a good catch by Mackinlay for 23 off the bowling of Todd Henderson who had copped some tap early in the over but came away with the last laugh.
At the halfway mark of the innings, the score had moved to 4-82 with both teams yet to wrestle the momentum in their favour. Albury started to do this however, with John Spencer claiming the wicket of Longstaff for 27 and Kade Brown finding the edge of Joel Marks' bat to see him caught behind by Sariman for 24.
The big momentum shift however came when Hamish Mackinlay picked up two wickets in an over to leave Riding Mill reeling at 8-116. First, Mackinlay took the big wicket of Riding Mill skipper Aly Hall, with Spencer taking a sharp chance before finding the edge of Greenwood's bat to keep the ever reliable Sariman in the game claiming his 5th dismissal of the innings.
Mark Butcher and Tony Potts showed some lower order firepower to lift the Riding Mill total to a more than respectable 8 for 162. The two were innovative, creative and at times fortunate in their unbeaten 46 run stand for the 9th wicket with Butcher finishing 25 not out and Potts dealing only in boundaries and sixes on his way to 24 not out.
The run chase was always going to be an interesting one with Riding Mill needing to take wickets at regular intervals to help stem the flow of runs. Dice Cricket veteran Brian Watson delivered the goods second ball of the innings with Alex Popko out stumped by Greenwood for just 2. Dom Stockdale ensured all was not lost however, hitting two towering sixes to take the score to 1-18 after the opening over.
After getting hit for back to back boundaries by Nat Sariman, Tony Potts found himself on a hat trick, removing Sariman caught and bowled before trapping Mackinlay in front first ball for 0. Kade Brown may have not realised it was a hat trick ball as he had been busily padding up not expecting to be at the crease so quickly. Potts, attempting a yorker delivered a half volley that Brown put straight back over his head for 6.
Mark Butcher's over was an expensive one with three sixes coming off it with Brown and Stockdale building a formidable partnership at the crease. Riding Mill skipper Aly Hall was able to put the breaks on the scoring, claiming the wicket of Brown who was out to a great catch by Bennett who was fielding at leg gully.
The following over will be the most talked about one of the tour so far with Joel Marks getting hit for six by Stockdale first ball and then taken for a cheeky single the following ball before four balls of mayhem ensued.
John Spencer looked to get off the mark advancing down the wicket to a well flighted delivery from Marks which moved off the surface just enough to pass the bat with Gez Greenwood effecting a quality stumping to send him on his way without scoring.
The next delivery was again tossed up with Albury skipper Ross Dickson attempting to work the ball through the onside. He was through the shot too early however, with a leading edge ballooning to Ali Raza who claimed the catch to put Marks on a hat trick.
Todd Henderson strode to the crease and it seemed he was intent on just seeing the hat trick ball off and calming things down. Marks again tossed it up, trapping Henderson on the pads with the umpire turning down a huge appeal suggesting Henderson had managed to get a faint inside edge to a ball that looked destined to be missing both off and leg stumps and hitting halfway up middle. There was a huge shout for LBW the following ball with Henderson saved this time by being struck outside the line to a ball that looked like it may have been coming back enough to hit the top of off.
This is where the excitement stopped for Riding Mill with Henderson and Stockdale crafting a majestic partnership to both work their way to half centuries in the penultimate over of the game. Scott Dickson was left with the task of bowling the final over to two set batsmen needing fourteen for victory. Stockdale wasted no time in securing the win for the hosts finishing things off with a towering six and back to back boundaries.
It was a case of the one that got away for Riding Mill with both teams having opportunities throughout to claim the ascendancy with the Albury lads able to win the key moments in the game coming away with a four wicket win with three balls to spare.
Dom Stockdale was named official Cricket Library Player of the match for his 64 not out.
The tour will continue this week, make sure you stay tuned to our twitter feed and website for all of the latest news and of course be certain to catch up with the latest on the Cricket Library Podcast.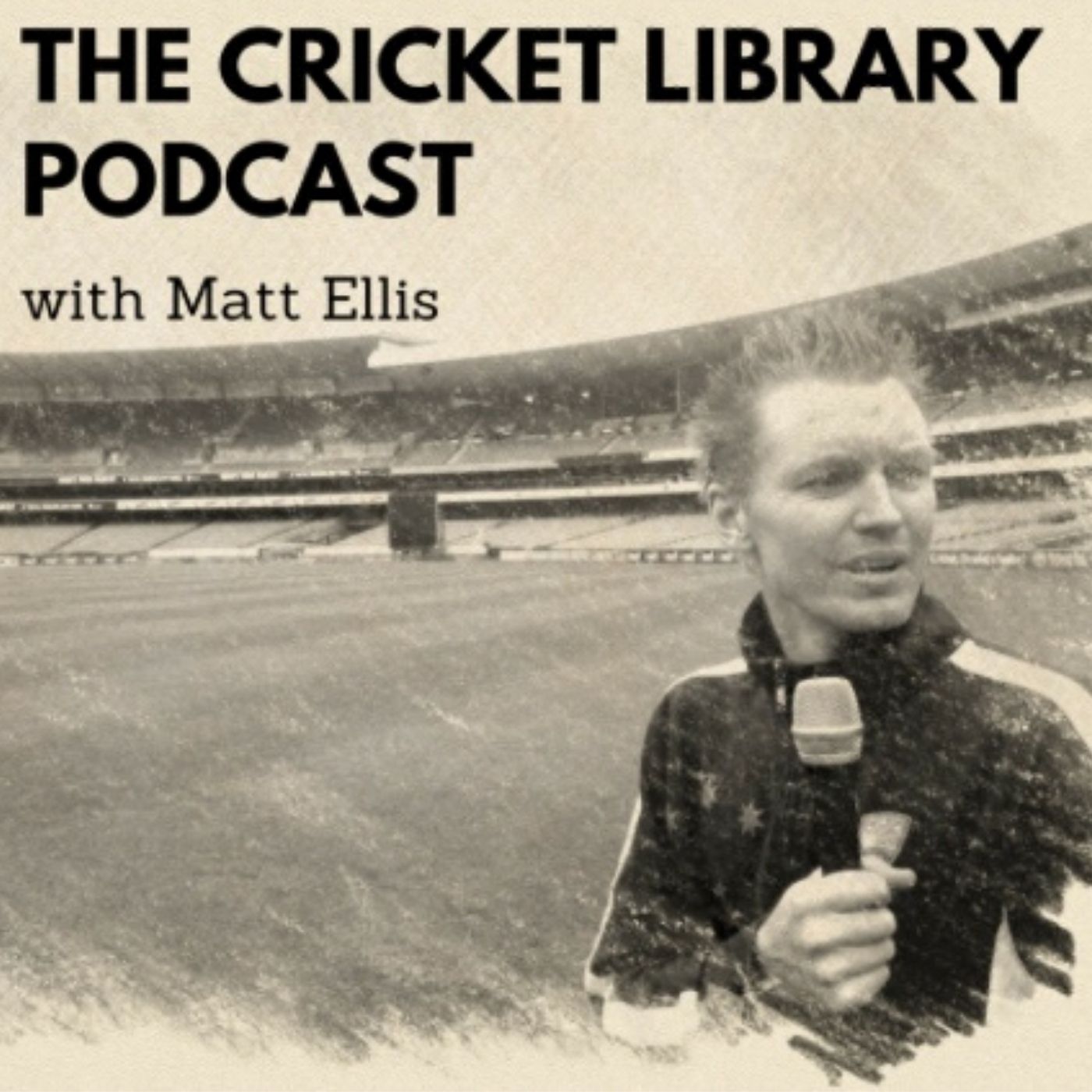 Kepler Wessels Special Guest On The Cricket Library Podcast
–
The Cricket Library
Kepler Wessels has the distinction of representing both Australia and South Africa in International Cricket. In this edition of the Cricket Library Podcast, Kepler Wessels joins host Matt Ellis to share his reflections on the origins of his passion for cricket, breaking into First Class Cricket at age 16 whilst still at school, moving to England and the influence of Tony Greig in getting him to Australia to play World Series Cricket. We hear about Kepler's test debut, where he made a big hundred, and we clear up who was to blame for the run-out of Greg Chappell in that innings. He shares his mindset for taking on and conquering the almighty West Indies pace attack of the 1980s. We get some insights into the Sheffield Shield final in the 1985/6 season and his dismissal of Mark Waugh in that game. Kepler speaks of the surprise of returning to play international cricket for South Africa, the thrill of beating Australia in their first game of the 92 World Cup and the disappointment of bowing out in a rain-affected semi-final. He shares the plan they hatched to dismiss Allan Border in the famous Sydney Test Match of 1994 and the elation of scoring a century at Lord's at the back end of his career. Kepler updates us on what he is up to now, including his work at Kepler Wessels Training. Of course, we don't let him get away without asking who the three people he would most like to join him at the cricket nets. Please remember to subscribe to the Cricket Library Podcast on your favourite podcast provider and leave a review to help us to continue to start conversations that inspire a love of cricket.